Day 5 of my blog education: I am eternally grateful to the many blogs out there paving the way and selflessly sharing information.  I've recently discovered PicMonkey and have been busy uploading, playing with photos and becoming prone to spontaneous outbursts of "Oh Cool! You can make a beard appear!" Or, "You can make the kids go underwater!".  In other words, I've been totally distracted but in the best way possible, of course.  Ahem…. More relevant to a home design blog such as mine and how I can showcase some of my projects, I'm liking the Museum Matte and Film Edge features. 
The project above is one I am really excited to share. It's in our last house (in Seattle) in a combined work / office / craft / lounge space – otherwise known as "The Creative Room".
When we started brainstorming ideas for converting this space (previously a "formal living room" with an adjacent teeny tiny office), was to bring a very traditional set of rooms more to this decade, not the early 90's it was stuck in. We thought we may just go "contemporary traditional" but it evolved to have more of an industrial edge.  The home is in a very traditional neighborhood so we had to stay true to the house and the neighborhood.  But… I wanted modern touches.  So, enter steel grey paint, industrial pipe shelving, industrial cabinets, iron hardware and a coffee-house lounge seating area (not shown).  Pinterest was awesome for brainstorming.  I did a ton of searching and at the time could only find one industrial pipe shelf photo, originated by Restoration Hardware.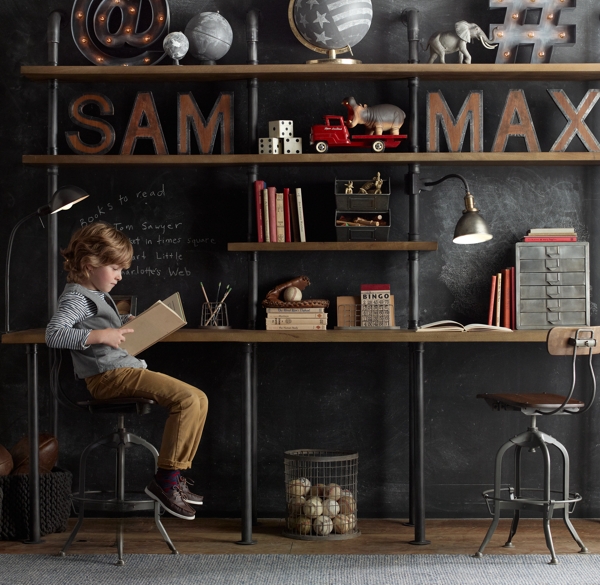 I loved everything about this, right down to the chalkboard.  We got pretty close with the steel grey paint but my husband drew the line at chalkboards (and chalk-related dust).
Here's our Family Library Office board where we tracked everything.  It's interesting to go back now and see the evolution of our brainstorming.  We definitely went from pretty traditional to a more of a transitional feel with little industrial and funk (I have a hanging egg chair that everyone thought I was crazy to include but was a favorite in the end).
Now that I've figured out the super user-friendly tools that PicMonkey has to play with, I know that adding photos is going to go much faster.  Tomorrow, I'll upload some before and "during" photos so you can see the process we went through to go from an idea, to bare walls and finally walls with shelves.